Manchester Pride 2023 - Bee Proud
Proud to bee an LGBTQ+ inclusive organisation. An estimated 40,000 people joined together at the weekend to take part in our city's wonderful, diverse and vibrant Pride festival. 
Every year, August bank holiday weekend means one thing for the city of Manchester; Pride celebrations and this year was no different. Our colleagues were once again delighted to take part in the parade to show our support and alliance with the LGBTQIA+ community and everything it stands for.
One Manchester and HouseProud North-West
For this year's parade, we once again joined forces with our fellow housing providers and HouseProud North-West members to take part in the parade. House Proud North West is a network of social housing providers who work together to improve the way we support and deliver services to our LGBTQ+ colleagues and communities.
On the day, Manchester city centre was bursting with colour and vibrancy as tens of thousands of LGBTQ+ people and allies gathered together to march through the city to celebrate the community. They marched to remember and honour those who came before, paving the way of progress, and to keep fighting for equality. For us supporting and actively engaging with our communities is really important to everything we do, which is why we ensure we support Manchester Pride every year and celebrate our organisation as an LGBTQIA+ supporter and ally.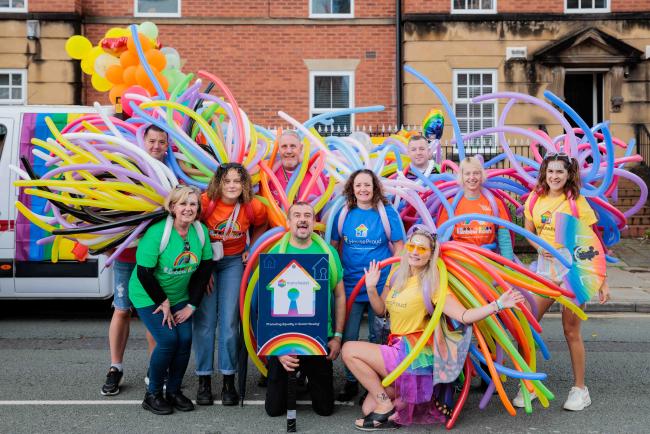 Bee Proud, Bee Home, Bee Loved
Our colleagues looked fabulous in their Pride Parade outfits as they walked and danced alongside our fellow HouseProud members as part of the parade. 
Roger Taylor-Brown, Thrive Fund Co-ordinator, lead One Manchester colleagues for the parade and he was thrilled with how it all went this year: 
'Saturday's Pride March was a huge success! Our HouseProud North-West entry was a riot of colour and the balloon back packs, balloon bees and individual letters spelling out the Manchester LGBTQ+ housing associations message of Bee Proud, Bee Home, Bee Loved underpinned the visual impact of the team. So many smiling faces, both in the parade, and in the crowd. In fact, it's been estimated 40,000 people were watching on the day. Every year, the Pride march goes from strength to strength, and it was so great to be part of it.' 
Don't forget to check out our images from the day on Facebook and Instagram.