Money advice
We know that times are tough at the moment, especially with the rising cost of food, energy and bills. We're here to provide you with all the support, advice, and guidance you need.  
Helping you when you need it
If you're concerned about finances or are just looking for some advice, our Financial Inclusion team can support you. The team offer support with everything from benefits applications such as housing benefit for rent costs or Personal Independence Payment (PIP) claims, to offering budgeting, debt advice and support in managing your finances better.
The Thrive Fund- apply now
Receive support for your family 
Last year, we set up the Thrive Fund, to help combat the increased cost of living by helping support our customers purchase items they were struggling to afford. We we're proud to support a total of 850 families in round one of the fund. 
In 2023, the fund is continuing to help you, our customers, to purchase items you feel you need, such as new furniture, food or school uniforms
Apply now
You can apply now for the new Thrive Fund by completing our online form which can be found here.
Please note that after receiving your application a referral will be sent to your Neighbourhood Officer who will be in touch to arrange a tenancy experience visit, where they will discuss your application and any other issues you may have. If your tenancy experience visit is not completed we'll be unable to assist you.
When completing this application form, please give as much information as you can, this must include your full name, full address and postcode. Without your full address, we will have to reject your application.
 
Benefits advice
Not sure what benefits you're entitled to, or need support reviewing and applying for benefits? 
Our Financial Inclusion team is here to help you understand benefits and find out what you're entitled to. The expert team have helped thousands of our customers just like you to manage their benefits and claim benefits they were owed.
Universal Credit - managed migration support
We know that some of you may have heard about the managed migrations to Universal Credit taking place and want help understanding what it means.  
The Department for Work and Pensions (DWP) has recommenced the managed migration of customers from existing legacy benefits claims on to Universal Credit, with a target date to complete this by the end of 2024. Managed migration is the process by which DWP transfers people with live claims for existing legacy benefits to Universal Credit.
We've created a handy guide to help you understand managed migrations and answer some of your FAQs about the process of migrating to Universal credit.  Click here to read our guide. 
Cost of living
With the increase cost of living putting additional pressure on finances, we're working hard to provide a helping hand when you need it. Whether you need advice or help to pay for food, fuel or furniture, our Financial Inclusion team is here to help you.
Savings and budgeting
Our team offer a wide range of support to help you with budgeting and start saving money. Our friendly advisors are always on hand to chat to you about your finances and help you manage your money.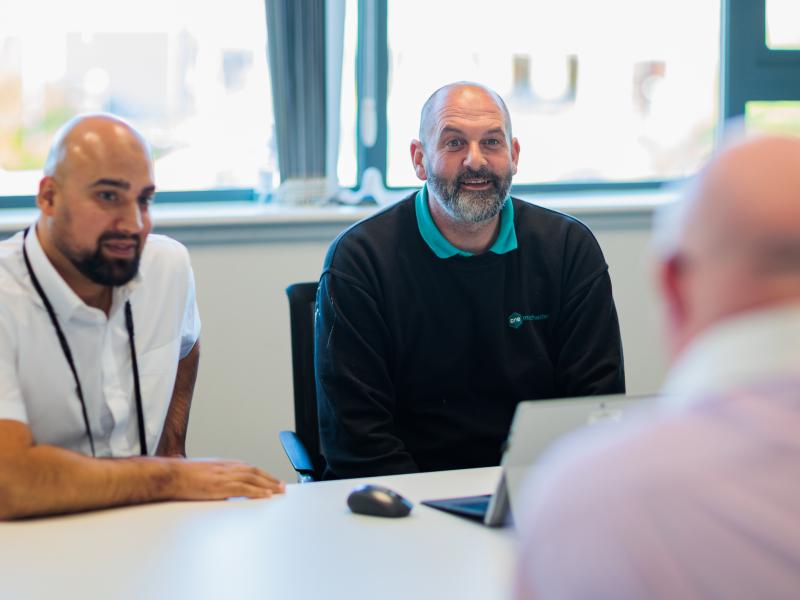 Worried about money?
Money worry is a lot for anyone to have to deal with, and that's why we offer a range of support to ensure you're not worrying alone. Our colleagues can help you with money advice and support, as well as support with you mental wellbeing if the worry is impacting your health and wellbeing.
Pointing you in the right direction to a brighter future
Budgeting and saving are important to make sure you're prepared, should something unexpected happen. We know that changes in circumstances such as a losing your job, health problems or a change in family circumstances can cause extra money stress. Our friendly advisors can help advise you on everything from bank accounts, to providing top tips to budget better.
Bank accounts
Bank accounts are important in making sure you're able to pay your bills on time, buy things online and in-store and get your income deposited. It's important to choose the right account for you, to help you maximise your money. 
Need some advice? 
Give our Financial Inclusion team a call and the team will be happy to help you work out what bank account is best for you.
How to choose an account
It's important to have the right bank account set up for your needs. Comparison websites are a great starting point to help you find the right current account for you. 
We recommend the following websites for comparing current accounts:
Go compare
Moneyfacts
Money Saving Expert
Money Super Market

Credit Unions
Credit Unions are affordable lenders, offering you the opportunity to borrow money at extremely competitive rates.
Did you know that credit unions can help you get on top of your money?
Saving money at the same time as borrowing will help you build financial resilience against the unexpected and help you build a security net for when you need it.