Shared Ownership
Take your first steps into home ownership with one of our Shared Ownership homes.
Helping people buy their homes with a small deposit
Do you want to buy your own home, but are struggling to afford it? A Shared Ownership property with us may be the answer you've been looking for.
What is Shared Ownership?
With a traditional mortgage, you put up a deposit and get a mortgage for the rest of the property, so you buy 100% of that property.
With Shared Ownership, you buy a share of your property between 25%-75%, depending on what you can afford, and then pay rent at 2.75% on the remaining share. This means that you need a smaller mortgage, and a smaller deposit.
You can then buy more shares as and when you can afford them, and as you buy more shares, you pay less rent.
Eventually, you can own 100% of the property, at which point you'd only pay a service charge (if your property has one) but no rent! 
What share will I need to buy?
The share you will need to buy will vary based on your personal circumstances and what you can afford.  
Here's an example: Let's say you buy one of our homes which is valued at £150k; If you chose to buy that at 50% ownership based on your financial situation, you would pay:
The cost of your mortgage for the 50% share you've bought, minus any deposit you have paid.  
Your rent to us, which as 2.75% of the remaining 50% share we own, is £172 per month.
Your normal bills for water, gas, electricity, council tax, internet etc.
Any service charges to cover communal areas of your development.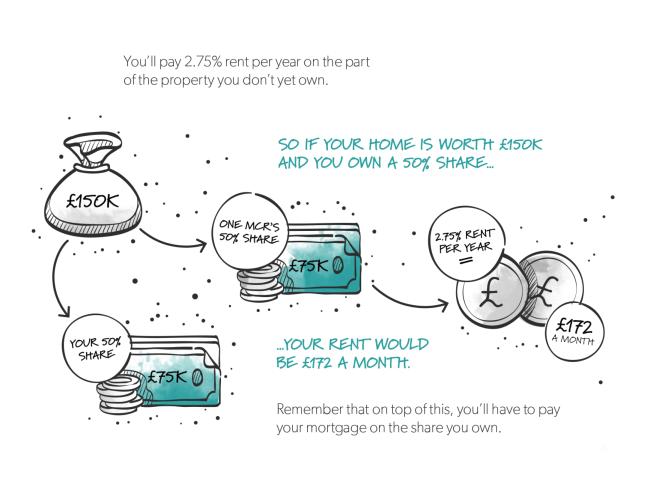 How do I apply?
Take a look at the developments we have available below and register your interest. When we're ready to launch we'll be in touch with further details on how to apply.
Useful information
Sometimes our scheme offers homes on a range of tenures, so you may be able to purchase either Shared Ownership or Rent to Buy, so you can find the best property for your needs.

The best move you'll make. Your new home is from a dedicated, caring landlord. You'll be kept informed right through the process, have access to a range of services beyond housing and get personalised advice and care.

We're regulated by the Government to ensure we provide equal services for our customers.