Celebrating National Apprenticeship Week
Celebrating National Apprenticeship Week
It's National Apprenticeship Week 2023, a week dedicated to bringing businesses and Apprentices across the country together, to shine a light on the value Apprenticeships have for individuals and businesses alike. The theme for this year's campaign is 'Skills for Life', it's all about reflecting on how Apprenticeships can help individuals to develop the skills and knowledge required for a rewarding career and businesses to develop a talented workforce.
At One Manchester, we have one purpose - to provide good quality homes, great services and real opportunities for our customers and communities. Our Apprenticeship programme was designed with our purpose in mind, we offer high-quality, nationally recognised qualifications and professional development opportunities for people of all ages, to help them improve their skills and capabilities and help them achieve their career aspirations.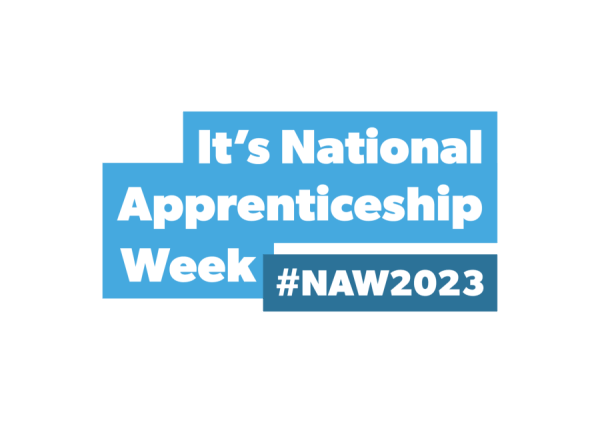 We offer all our Apprentices the Real Living Wage, provide on the job work experience and all the support needed to develop the new skills needed for their chosen career. Our Apprentices also benefit from regular review meetings with managers and training providers, to ensure they all have the opportunities they need to thrive throughout their time with us.
Since we started our Apprenticeship programme over four years ago, we have partnered with a large range of training providers to offer both trade and professional qualifications in everything from roofing and plumbing to business administration and youth work. 
We're proud to have;
30 Apprentices currently completing an Apprenticeship with us.
23 previous Apprentices now in permanent employment with us
During the week, we will be celebrating our Apprenticeship programme and shining a light on the colleagues currently completing Apprenticeships at One Manchester. We asked some of our current Apprentices, Charles, Dylan, Lisa, Savannah, and Shuib to share their experiences on the programme, you can read their stories below.
Charles Fleig, Development Project Officer Apprentice
Charles started his Development Project Officer Apprenticeship with us in November 2022, after taking voluntary redundancy from his 15-year career in the Adult and Community Education sector and deciding to change career. 
Charles said: "I was really surprised to find that degree level Apprenticeships were available, so I jumped at the chance to apply for the role. My favourite part of the experience so far has been being part of something new and having colleagues appreciate my skills and experience from another sector, they've supported me to apply these in a new context. I love that I'm learning new things and meeting new people. "
When asked about his hopes for the future, Charles explained that his Apprenticeship lasts around 6 years, but he plans to continue a career in housing, as he has thoroughly enjoyed his experience so far.
 
Dylan Chadwick, Plumber Apprentice
Dylan started his Plumber Apprenticeship at the start of 2022, after leaving an Apprenticeship with another provider because he felt he wasn't being supported to learn and grow his skills in plumbing. 
When asked about his experience on his Apprenticeship, Dylan explained that it has been so much better than he expected, he feels supported by colleagues and has received a lot of help and guidance from everyone he works with. 
Dylan said: "My colleagues have gone above and beyond to help me overcome any challenges i've experienced. 
"I would always suggest that someone take an Apprenticeship route, it is a great learning experience."
Lisa Lowe, Apprentice Painter and Decorator
Lisa started her Apprenticeship at One Manchester at the beginning of 2022, following a career of over 20 years working in an office environment. Lisa decided she wanted to have a complete career change but needed to earn whilst she was learning. 
Lisa said: "I didn't really know what to expect when I was offered the opportunity to work at One Manchester completing this Apprenticeship. But I can honestly say, hand on heart, that it's been a very positive experience. From the outset of my training I was placed with a fantastic team, who have nurtured me and provided me with all the help and support I have needed, helping me to gain relevant experience for a career as a painter and decorator." 
When asked if she would recommend and Apprenticeship to others, Lisa said: "Yes, full time study does not suit everyone. An Apprenticeship offers you the chance to train whilst you learn on the job. What's even better is that One Manchester also pays a real Living Wage which makes a real difference."
 
Savannah Elliot, Apprentice Bricklayer 
Savannah also started her Apprenticeship at the beginning of 2022, she chose to do an Apprenticeship as she felt it was the best way for her to learn her chosen trade, bricklaying.
When asked about her favourite part and most challenging part of the Apprenticeship, Savannah said: "I've found it positive getting good feedback from my tutors and colleagues, it's really nice to hear i'm doing well and helps to keeps me motivated. The most challenging part for me has been juggling working and attending college, with being a mum. It's been hard work, but I know it will all be worth it when I complete my Apprenticeship."
Savannah said she would recommend an Apprenticeship to others because it's a great way to learn and make money at the same time. She's hoping to get a full-time job as a bricklayer at One Manchester, on completion of her Apprenticeship.
Shuib Ismail, Finance Apprentice
Shuib started his Finance Apprenticeship with us in January 2022, after learning about the value of Apprenticeships during a talk at high school. Shuib liked the idea of getting paid whilst working towards a qualification and gaining invaluable workplace experience. Shuib said he wanted to complete his Apprenticeship with One Manchester because he wanted to work somewhere with values he believed in. Since starting his Apprenticeship, Shuib has enjoyed taking what he is learning at college and applying it in work most, as well as passing his exams! 
Shuib said: "The team has been very welcoming, and I fit in really well. The team give me regular face to face support and there has been lots of support from other colleagues and managers as well, especially at the start, which really helped me to settle in. I would recommend it to everyone!"