Rent to Buy is a new scheme that gives people who are currently struggling to save for a deposit the opportunity to do so, whilst living in the home that they could eventually buy.
We currently have Rent to Buy available on our Atlas Place, The Clockworks, Sandpiper Place, South Gate and Fell View developments, but we will be launching more Rent to Buy developments in the coming months. Find out more about the process of our Rent to Buy scheme below.

Who is eligible for Rent to Buy?
To be eligible for Rent to Buy, you must be a working household that would like to buy your own home in the future, but are just starting to save for your deposit. You must be a first time buyer or returning to the housing market following a relationship breakdown.
Watch the video below to see Adam and Jacqui talking about why Rent to Buy was the perfect solution to getting their own brand new home.
What rent do I pay?
Rent is set at 80% of the market value for your area, allowing you breathing space to save.
Here at One Manchester, our One Money team can put you in touch with suitable financial advisors to make sure you get the best deal for your savings. The One Living team will provide contact details for this when you apply, so please register your interest in a scheme by completing the development form on the relevant page.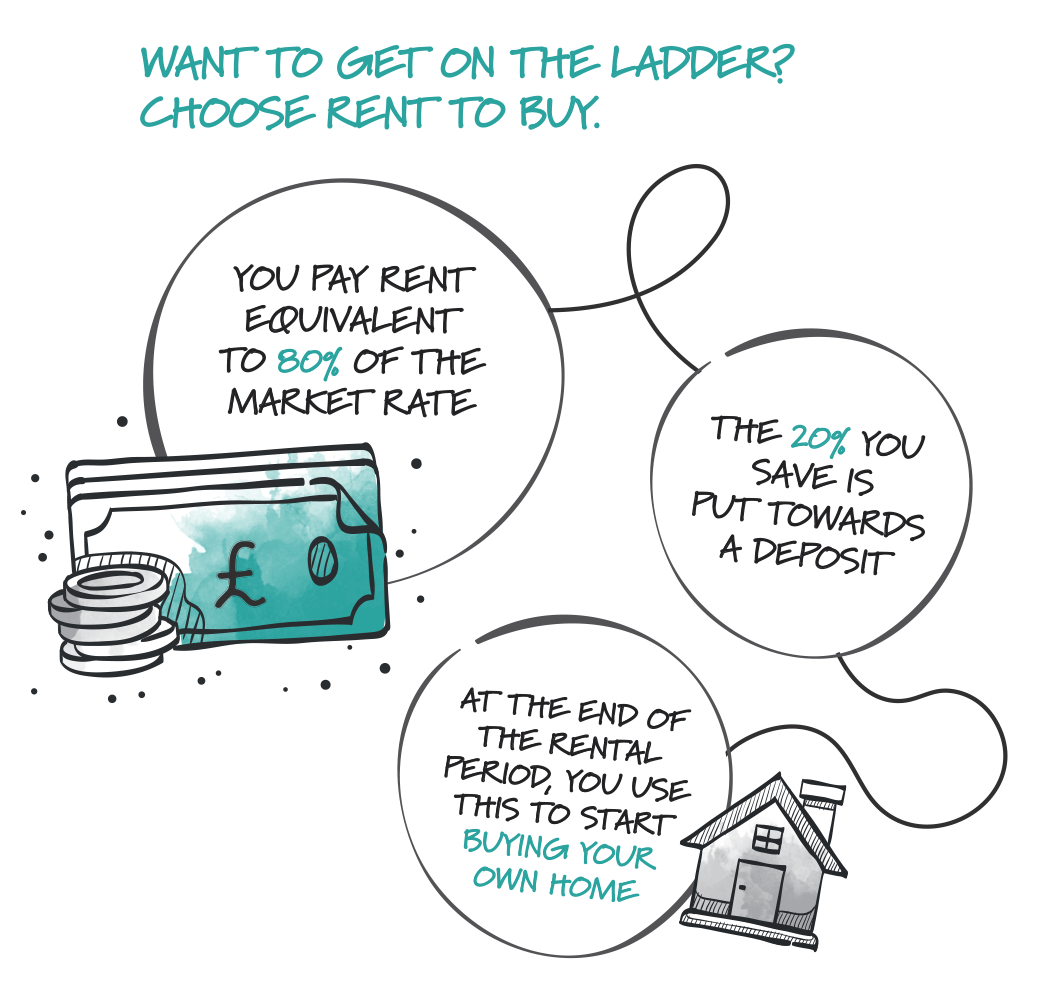 ​
With the Rent to Buy scheme, when can I buy?
You are expected to buy the property outright or on a shared ownership after five years. However you can also buy using shared ownership at any point within the first five years, subject to One Manchester's agreement.
What happens if I can't buy after 5 years?
If you can't afford to buy your house after five years then we will talk to you about the options, one of which is that you remain in the property and pay market rent. However, we may decide that we need to remarket the property for outright sale or to re-let to a new Rent to Buy applicant. This will be at the discretion of One Manchester and will be discussed in detail when you sign up to a particular property. We will support you with all housing options at the time and you will always have first option to purchase the property before any decision is made.
The Clockworks, Moss Side
The Clockworks is located on Princess Park way and will be close to completion at the end of 2019
Find out more
On Hyde Road, Gorton, we will be building 26, three-bedroom houses and a brand new community centre.
Find out more
We have properties available in both Shared Ownership and Rent to Buy!
Find out more
This development in Openshaw has 2- and 3-bedroom houses split across two sites and available for shared ownership or Rent to Buy.
Find out more